Madalin Stunt Cars 2 multiplayer online 3d game.
Last updated: November 30, 2018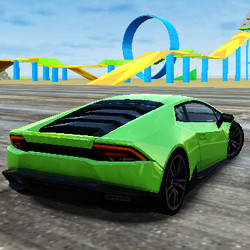 On Madalin Games you will find the latest version of msc2, browser version (webgl) and downloadable version for Windows, Mac OS X, Linux.
Show off a few tricks with your car and have fun with friends.
Shift – Nitro.
Choose one of the almost 40 cool cars, set a color and get ready for the joyride! Wondering which car to choose? Here is the list: Lamborghini Veneno, Pagani Zonda, LaFerrari, Ford GT, Huracan, Aventador, and many more, 2 cars are also available in a police version!
Control your car with WASD or Arrow keys, and press a SPACEBAR to use a handbrake. Press T to see your position and other players on the map, R to respawn and C to change camera view. Press SHIFT to accelerate using nitro.
Developed by Madalin Games
Games in this series:
Madalin Cars Multiplayer
Madalin Cars Multiplayer b
Game Stats
1,865,863 views
Game Tags
car, cars, chase, drive, driving, multiplayer, police, pursuit, race, racing, stunt, stunts
Game Categories